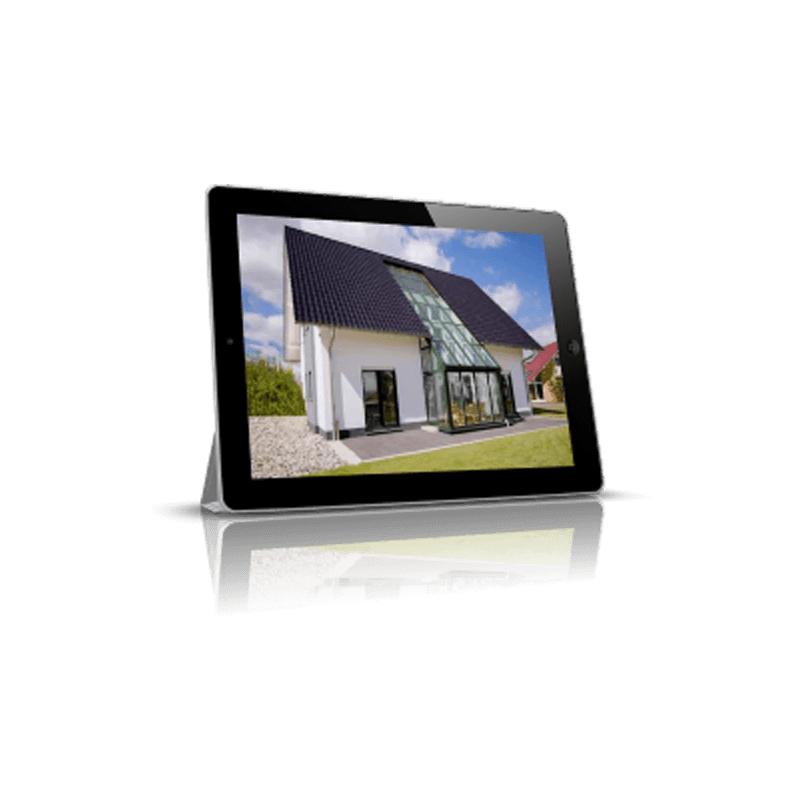 AUGMENTED REALITY (AR) FOR BUILDING MODELS
Augmented Reality (AR) is a modern technology that extends visual reality with the help of computers. With the planXchange AR app, a live image recorded by a tablet or smartphone is enhanced by additional information: for example, the three-dimensional building model is projected onto a two-dimensional floor plan printed on paper.
In addition, this visualisation can also offer other functions that allow the three-dimensional building to be changed directly (e.g. colour of the roof covering, type of outer shell, window types, etc.). Thus it can be actively used for sales support. The building with the desired equipment becomes "tangible" for the observer and thus creates a new dimension of emotions.
THE INITIAL SITUATION
Do you send catalogues to potential clients and exhibit a variety of different building models using photos and building floor plans?
The future owner (customer) can choose within a fixed framework from various features of these house types, some of which are also shown in the catalogue by means of photos. However, it is usually up to the customer's imagination to imagine the final building in its external appearance.
THE USE CASE
In order to give the customer the opportunity to have an ad hoc look at "his" house, augmented reality technology can be successfully applied. For this purpose, the customer can use e.g. a smartphone or tablet, on which your AR app is first loaded from the app store of your device manufacturer. As soon as the app is started, it displays the camera image of the device. If the camera is held over a building floor plan on a catalogue page, the corresponding three-dimensional building model rises up as a "house on the page" in the display of the mobile device.
The customer can now approach the virtual house in order to look at more details up close or move further away to get a better overview. The virtual house can be viewed from all sides, even "entering" the house is possible. Using a selection function on the app's interface, different options can be chosen depending on the type of building. For example, the customer can choose the facing brick, roofing, window type, frame colours, etc. and thus put together his or her personal building. In an enlarged view, it is also possible to select interior details such as interior doors, wall colours and stairs.